Maryland Farmer COVID-19 Relief Program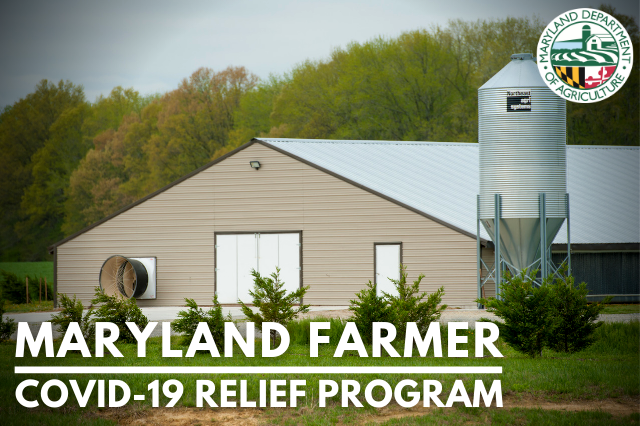 The Maryland Department of Agriculture is now accepting applications for a new relief program for farmers impacted by the COVID-19 pandemic. The Maryland Farmer COVID-19 Relief Program will provide payments for contract poultry producers who were not eligible for Coronavirus Food Assistance Program (CFAP) funds, as well as bonus payments to farmers who received federal relief from the first round of CFAP funding.
Contract poultry growers are eligible for direct payments of $1,000 per poultry house (capped at five houses). Poultry growers whose flocks were depopulated during the pandemic are eligible for an additonal $1,500 per house.
Maryland farmers who received federal funding from the first round of CFAP payments are eligible for a 15% bonus payment.
How to apply:
Click the relevant link to fill out an application.
For more information on the program and/or application process,
---
October 21, 2020 – Board Meeting – Click the link for details!
---
Do you want to better understand Agriculture in Maryland? See the links provided for information and workshop registration! –
---
Consulting Foresters & Forest Harvest Operators – New Standard Erosion and Sediment Control Plan for Forest Harvest Operations (Standard Plan) – Effective, October 1, 2020!
(Click Urban Services and Program Specifics for further details!)
---
Cover Crop Farmers: It's Not Too Late to Qualify for an Early Planting Bonus
Maryland farmers who signed up for state cost-share grants to plant fall cover crops using non-aerial planting methods can qualify for a $10 per acre incentive payment if they plant their fields by October 10. Studies show that the sooner fall cover crops are planted, the greater the water quality and soil health benefits. More information is available on the Maryland Department of Agriculture's website. Farmers may also contact their local soil conservation district, or call the Maryland Agricultural Water Quality Cost-Share (MACS) Program at 410-841-5864 with questions.
---
**Update:
While our office remains closed for public access as noted below, as of Monday, June 15, 2020, we are operating, 8:00 a.m. – 4:30 p.m., Monday – Friday with District staff moving to regular schedules from the previously abbreviated schedules due to COVID-19.
District staff include: Elmer Weibley, Dee Price, Mark Kendle, Kristina Stair, and Lori Flook-Bishop.
Thank you for your continued patience and understanding!
Notice: Due to Washington County's State of Emergency Declaration and the continuing spread of COVID-19 (Coronavirus), our office will not have public access moving forward for an undetermined time period; click the link below for further information!
COVID-19 (Update – March 23, 2020, 1:00 p.m.)
---

https://mda.maryland.gov/Pages/fertilizer.aspx
---
Nutrient Management Training and Certification –
---
The Washington County Soil Conservation District
---
Is your SOIL healthy?? See the Maryland Department of Agriculture's Website – Soil Health!!
---
The History of Soil Conservation Districts!
---
National Association of Soil Conservation Districts (NACD),
"Hall of Distinction", names one of our own!
Don Spickler (Service beginning in 1971)
---
What are the legalities of Farmer saved seed?
"Farmer Saved Seed: What is Legal – What is Not"
---
Public Information Act (PIA)
For Inquiries/Requests, please submit to: Elmer Weibley, CPESC, District Manager
Washington County Soil Conservation District
1260 Maryland Avenue, Suite 101, Hagerstown, MD 21740
301-797-6821, Ext. 3
Elmer@conservationplace.com