**

2020 Annual Implementation Reporting Forms Due March 1
New this year, farmers have the option to file their AIRs electronically using the Maryland OneStop portal. The e-filing option will be ​​available beginning January 11, 2021. For more info visit:
https://mda.maryland.gov/resource…/Pages/air.aspx
---
Maryland Department of Agriculture (MDA) offers Conservation Buffer Initiative!! Applications being accepted beginning January 11, 2021!
Offering a one-time payment for enrolled lands – Click the links for further detail: Flyer & MDA Website
---
New!!

A short video highlighting conservation choices for Maryland farmers is now available in the Maryland Department of Agriculture's YouTube page. The video shows popular best management practices at work on Maryland farms to prevent soil erosion, build healthy soils, protect local streams, and help livestock and poultry producers manage mud and manure. Farmers who want to take advantage of free technical and financial assistance to install conservation practices on their farms, should contact our office at 301-797-6821, Ext. 3.
---
Maryland Farmer COVID-19 Relief Program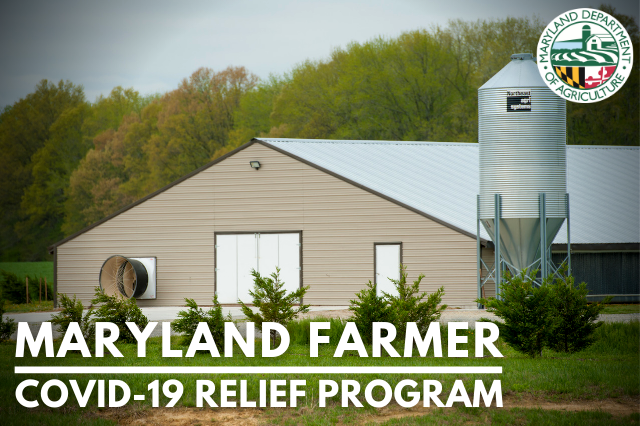 The Maryland Department of Agriculture is now accepting applications for a new relief program for farmers impacted by the COVID-19 pandemic. The Maryland Farmer COVID-19 Relief Program will provide payments for contract poultry producers who were not eligible for Coronavirus Food Assistance Program (CFAP) funds, as well as bonus payments to farmers who received federal relief from the first round of CFAP funding.
Contract poultry growers are eligible for direct payments of $1,000 per poultry house (capped at five houses). Poultry growers whose flocks were depopulated during the pandemic are eligible for an additonal $1,500 per house.
Maryland farmers who received federal funding from the first round of CFAP payments are eligible for a 15% bonus payment.
How to apply:
Click the relevant link to fill out an application.
For more information on the program and/or application process,
---
Consulting Foresters & Forest Harvest Operators – New Standard Erosion and Sediment Control Plan for Forest Harvest Operations (Standard Plan) – Effective, October 1, 2020!
(Click Urban Services and Program Specifics for further details!)
---
**Update (Beginning November 16, 2020):
Due to the COVID-19 case increases, our office remains closed for public access, except those allowable by appointment only!
We will be operating, 8:00 a.m. – 4:30 p.m., Monday – Friday, with District staff moving to alternating office days rather than an all staff presence every day. Staff will be teleworking on days they are not working in the office and will be reachable via email (see below):
District staff include:
Elmer Weibley (Elmer@conservationplace.com)/Dee Price (Dee@conservationplace.com)
Mark Kendle (Mark@conservationplace.com)/Kristina Stair (Kristinam.stair@maryland.gov)
Lori Flook-Bishop (Lori@conservationplace.com)
All Maryland Department of Agriculture (MDA) staff continue to work remotely; MDA staff include: Jay Duell (Jay.duell@maryland.gov)/Ginger Noble (Ginger.noble@maryland.gov) & Chris Burch (Chris.burch@maryland.gov)
Thank you for your continued patience and understanding!
---

Lawn Fertilizer Blackout Dates Now in Effect!
Lawn fertilizer blackout dates are now in effect. Nitrogen and phosphorus may not be applied to lawns until March 1. Remember, applying fertilizer to hard or frozen ground increases the risk for nutrient runoff into the storm drains that feed the Bay.
---
Nutrient Management Training and Certification –
---
The Washington County Soil Conservation District
---
Is your SOIL healthy?? See the Maryland Department of Agriculture's Website – Soil Health!!
---
The History of Soil Conservation Districts!
---
National Association of Soil Conservation Districts (NACD),
"Hall of Distinction", names one of our own!
Don Spickler (Service beginning in 1971)
---
What are the legalities of Farmer saved seed?
"Farmer Saved Seed: What is Legal – What is Not"
---
Public Information Act (PIA)
For Inquiries/Requests, please submit to: Elmer Weibley, CPESC, District Manager
Washington County Soil Conservation District
1260 Maryland Avenue, Suite 101, Hagerstown, MD 21740
301-797-6821, Ext. 3
Elmer@conservationplace.com